The ESPN FC crew discuss Tottenham's draw with West Brom and whether that has all but handed the title to Leicester City.
LEICESTER, England -- It is ridiculous. There can't be anything in it. But the more you think about it, the stranger it gets. When the bones of King Richard III, which had been discovered underneath a Leicester car park three years earlier, were reinterred in March 2015, the city's football club was bottom of the Premier League and heading for relegation. Following his
reburial at Leicester Cathedral
, the football club won seven of their last nine games to secure an astonishing escape. It didn't stop there: They just keep winning.
Richard III
is not one of England's most beloved former monarchs. Obliged to protect his nephew, the 12-year-old King Edward V, Richard instead had the boy's claim to the throne invalidated, took the crown for himself and then is widely believed to have had Edward and his eight-year-old brother murdered in the Tower of London. Even in medieval England, this sort of thing was frowned upon. Richard faced a challenge from Henry Tudor and so their armies met in 1485 on the field of Bosworth, 11 miles from Leicester.
Despite a spectacularly brave late charge for victory, Richard was de-horsed -- hence the "My Kingdom for a horse!" line in Shakespeare's play -- surrounded and slain. His body was stripped, taken back to Leicester and buried without ceremony at
Greyfriars Church
. That church was later demolished under the reign of Henry Tudor's son, Henry VIII, and contemporary stories suggested that Richard's bones had been tossed into the River Soar.
But this was not the case. Instead, he lay there in the earth for centuries as Leicester transformed out of recognition above him. In 2012, he was
finally uncovered
. The people of Leicester took him to their hearts and lobbied the government for the right to bury him at their cathedral. On the day of the ceremony they lined the streets in their thousands to see him off. It might have been the kind of behaviour to make some smile nervously and walk away whistling but, when Leicester next played,
at home to West Ham
, something strange happened. They won.
Leicester City's supporters, generally speaking, are not used to winning. Not like this, anyway. The club has never won the league and has only come close on two occasions. The first time was in 1929 when they finished a single point behind Sheffield Wednesday. Fuelled by the goals of Arthur Chandler and Ernie Hine, they started slowly but picked up the pace as the season progressed, thrashing Portsmouth 10-0 on Oct. 20. But two defeats in April, one to Aston Villa and another, to what was presumably a highly motivated Portsmouth side, cost them dearly.
Their next challenge came in 1963 when England was in the grip of a winter so fearsome that not a single match could be played in January. But Leicester had an advantage. Their Filbert Street pitch had recently been relaid and treated with a combination of fertiliser and weed killer so potent that the resultant chemical reaction kept the frost at bay. From Boxing Day to Apr. 8, Leicester were unbeaten, winning all but one of their home games. And it wasn't simply the weather that was a factor. Manager Matt Gillies was a forward-thinking man, one of the first to practice set-pieces and to tell his players to swap positions midway through the game to confuse their opponents.
"Unfortunately, we lost to West Bromwich Albion when we were favourites and then it fell apart," recalls veteran supporter Stuart Prince. "We lost our last four games and ended up finishing fourth. It was terrible. Having been top, we thought that it was ours. We thought it was definitely ours. And we knew we wouldn't just be able to pick up and challenge against the next year. Not Leicester."
Those fears were well placed. The following season they finished 11th. They were relegated five years later.
The 1980s saw the development of one of the club's finest strikers, Gary Lineker, under the indomitable tutelage of Scottish manager Jock Wallace.
"We had massive respect for [Wallace]," Lineker told ESPN FC. "He was very demanding but, at the same time, he ended up being hugely encouraging too. He was the sort of manager you wanted to play for. His bark was worse than his bite; he was a big softie deep down. He cared very much about his players, how they lived, everything about them. I'll certainly be forever grateful for his input. The one thing I think more than anything else, apart from giving me the opportunity in the first place, was to teach me about giving myself the best possible chance of succeeding as a professional footballer and making sure I lived properly. I was half listening to him and half terrified of letting him down!"
Lineker was the top scorer for four consecutive seasons and helped lift the club back into the top flight. He would go on to score 48 times for England but left the Foxes in 1985. They were relegated two seasons later.
Leicester missed out on promotion into the new Premier League in 1992 when they were beaten in the playoff final by Blackburn. They reached Wembley again the following year, only to go 3-0 down to Swindon after 53 minutes. Responding bravely, Leicester clawed their way back to 3-3 before losing after a late penalty. Fortunately for the blood pressure of supporters, it was third time lucky in 1994 when they beat Derby County 2-1 and finally reached the top flight. But, after all that, they were relegated the following season.
When manager Mark McGhee left for Midlands rivals Wolves in 1995, he was replaced by Martin O'Neill, beginning what was hitherto considered to be Leicester's golden age. O'Neill had an eye for talent and a gift for cultivating team spirit.
"There was a lot of Brian Clough's management style in Martin," says former goalkeeper Kasey Keller, who played for Leicester from 1996-99. "He did a tremendous job. He had an eye for players and he could always find the perfect position for them, the position that they wanted. He demanded that every player played at the level he expected. If you were one of his guys, he would be there for you. He'd go to bat for you with the chairman when it came to contract talks."
In his first season, O'Neill took the Foxes back to the Premier League -- through the playoffs, naturally -- and led them to four successive Top 10 finishes. More importantly, he won two League Cups. The first came in 1997 after a replay against Middlesbrough and more success followed three years later against Tranmere Rovers. After such success, it was inevitable that O'Neill would eventually move on. A concerted campaign from the supporters had convinced him not to leave for Leeds United in 1998 but, in 2000, he found the lure of Celtic too much to resist. Leicester were relegated two seasons later.
At this point, the story darkens. Buoyed by success, Leicester had invested in a new, all-seater stadium and, in a bid to avoid another relegation, also spent heavily, and unwisely, on new players. Outside the Premier League their inflated wage bill, combined with the collapse of what had seemed a lucrative TV deal, saw them enter administration. A consortium led by Lineker
was able to save the club
but the restructure raised the hackles of rivals and the authorities.
Essentially, Leicester were able to change hands, write off the debt and move on without punishment.
Local creditors went unpaid
, including the St John Ambulance, which was owed over £4,000 by the club. It was for this reason that the Football League began to impose heavy points penalties on clubs that entered administration.
Leicester defiantly returned to the Premier League, but were relegated again in 2004 after just a single season and an extended period of instability followed. Manager Micky Adams was replaced by Craig Levein, followed by Rob Kelly, Nigel Worthington, Martin Allen and Gary Megson; not one of them lasted more than 70 games and three stayed for fewer than 10.
The club was sold to former Portsmouth owner Milan Mandaric in 2007 and later in the same year, after three years of bobbing around in the bottom half of the Championship, Leicester were relegated to League One under Ian Holloway. They were led back to the second tier by one Nigel Pearson but he would leave in acrimonious circumstances in 2010, convinced that the club were plotting to replace him with Paolo Sousa. He may have had a point: Sousa was appointed shortly after Pearson's departure.
Mandaric sold the club in 2010 to Vichai Srivaddhanaprabha, the owner of a vast retail network in Thailand. Sousa might have suspected the new owners would want their own man in charge but he didn't make it difficult for them, starting badly and plunging to the bottom of the table. He was sacked in October and replaced by the lavishly funded Sven-Goran Eriksson. But even that didn't work and, after a year of inconsistency, he left too.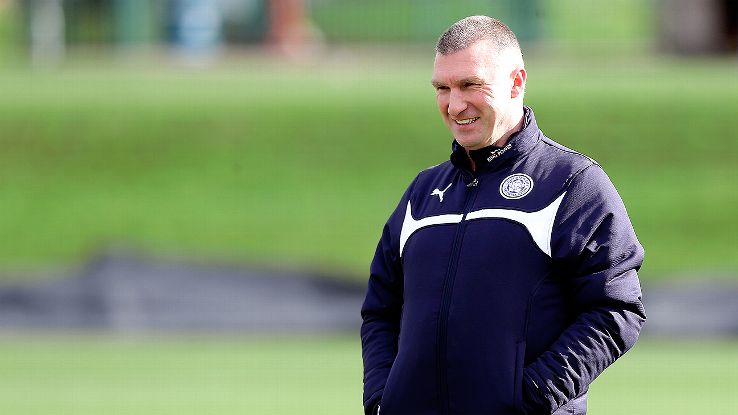 The stage was set for the return of the prodigal son. In November 2011 Pearson came back and, in 2014, Leicester were promoted to the Premier League.
Srivaddhanaprabha promised
a top five finish within three years, whereupon the world smiled politely. He has delivered it in two.
Pearson's part in the story of what Leicester have become is significant. He signed the players, built the structure and in 2015, led the most extraordinary of the Premier League's great escapes. As late as March, it seemed that Leicester would again be relegated. And then Richard III was finally afforded the dignity of his status when his dusty remains were finally laid to rest in the city's cathedral.
Then that city's football team, who had not won for eight league games, suddenly couldn't
stop
winning and escaped the drop.
Pearson left
in the summer after his relationship with the owners broke down but, despite initial widespread reservations about his replacement Claudio Ranieri, a football team that everyone expected to fight relegation instead found themselves fighting for the title instead.
Coincidence? Of course it is. But that doesn't stop it being weird. And wonderful.